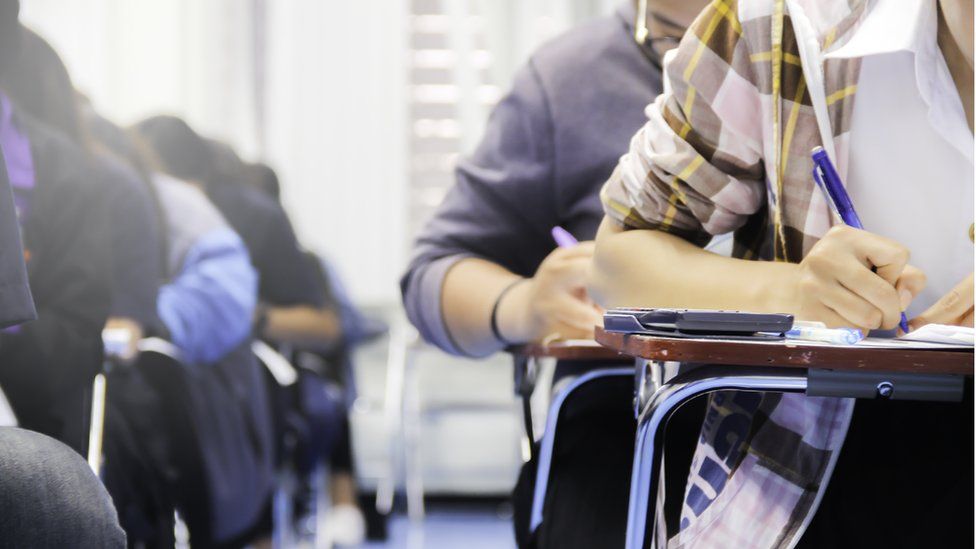 Plans for teachers to decide GCSE and A-level grades following the cancellation of this year's exams risk being inconsistent and penalising poorer pupils, MPs have warned.
Members of the Education Committee have written to Secretary of State Gavin Williamson, warning there could be a "Wild West in grading" in England.
Grades will be decided from coursework, essays and optional assessments.
Ministers have said the system will ensure consistency and fairness.
After GCSE and A-level exams were cancelled this summer, a system based on teacher assessments was set up.
'Inconsistent approaches'
But the letter outlines a series of concerns about the arrangements, saying it begs the question "whether there will be a level playing field for pupils".
It says it risks grade inflation this summer, beyond what was seen last August. This could create difficulties for the thousands of students chasing college and further and higher education places.
Last summer, thousands of students had their results downgraded from school estimates by a controversial algorithm, before the exam regulator Ofqual announced a U-turn which allowed them to use teachers' predictions instead.
Without exams and with a lack of external assessors to provide checks and balances and guarantee fairness, the MPs say there "is every possibility of inconsistent approaches to grading. That could create a "wild west" this summer, they say.
The letter also raises concern that Ofqual did not appear to have a clear measure of the amount of sampling of teacher assessed grades that should take place to shore up public confidence. The DfE must clarify this as soon as possible, it adds.
And it says allowing students advanced sight of the questions on which teachers will base their grades could allow students who are better supported at home to prepare their answers and perform better.
Robert Halfon, chair of the committee, said: "There are no easy answers given what has happened with Covid. However, the DfE and Ofqual should consider some kind of standardised assessment and a more robust way of validating teacher assessed grades."
The schools minister, Nick Gibb, has previously said the government had drawn up "the best system possible to ensure there is consistency and fairness in how teachers submit grades for their students".